【靜思書籍】The Loss of the Golden Feathers—Master Cheng Yen Tells Stories 2 / 《金毛不見了—證嚴上人說故事 2 》中英對照
Regular price

RM 0.00

Sale price

RM 35.00
Share
書本特色
證嚴上人叮嚀我們時時觀照自我的心念,懂得知足、惜福,守本分、勤付出,就能擁有充實快樂的人生。孩童心靈純摰,聰慧敏細,藉由淺顯易懂的文字搭配活潑逗趣的彩繪插圖,將基本價值傳達給我們的下一代。此書內容中英對照,並輔以漢語拼音,提供非以中文為母語的人學習中文,而以中文為母語的人也可以學習簡單的英文。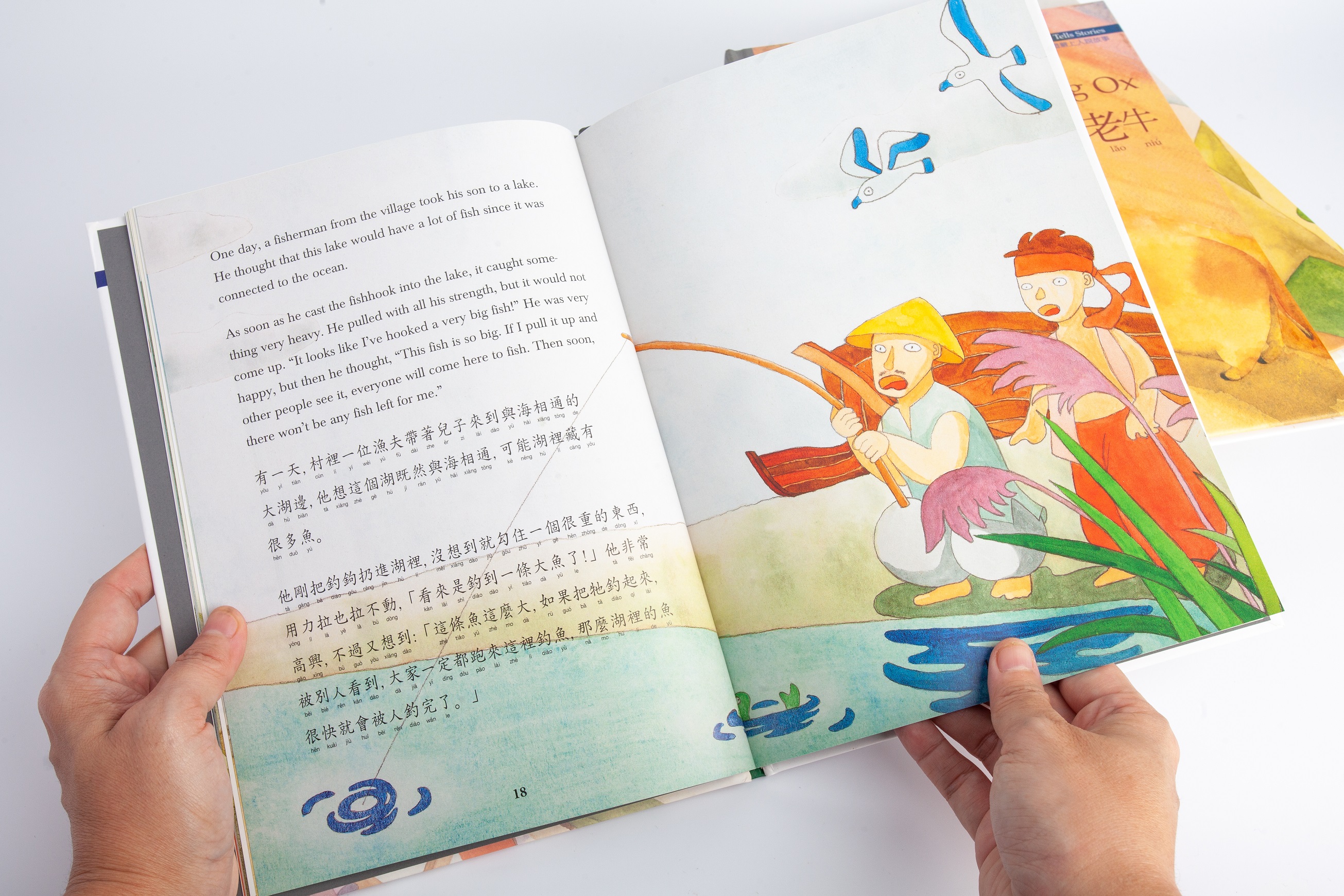 Master Cheng Yen teaches people to live a righteous and responsible life, and take Dharma to heart. Children's minds are the most innocent and intelligent. Through simple text and colorful illustrations, basic values are passed down to the next generation. With easy-to-understand bilingual text (Traditional Chinese with pinyin and English), this book helps non-Chinese readers to learn Chinese and Chinese readers to learn English.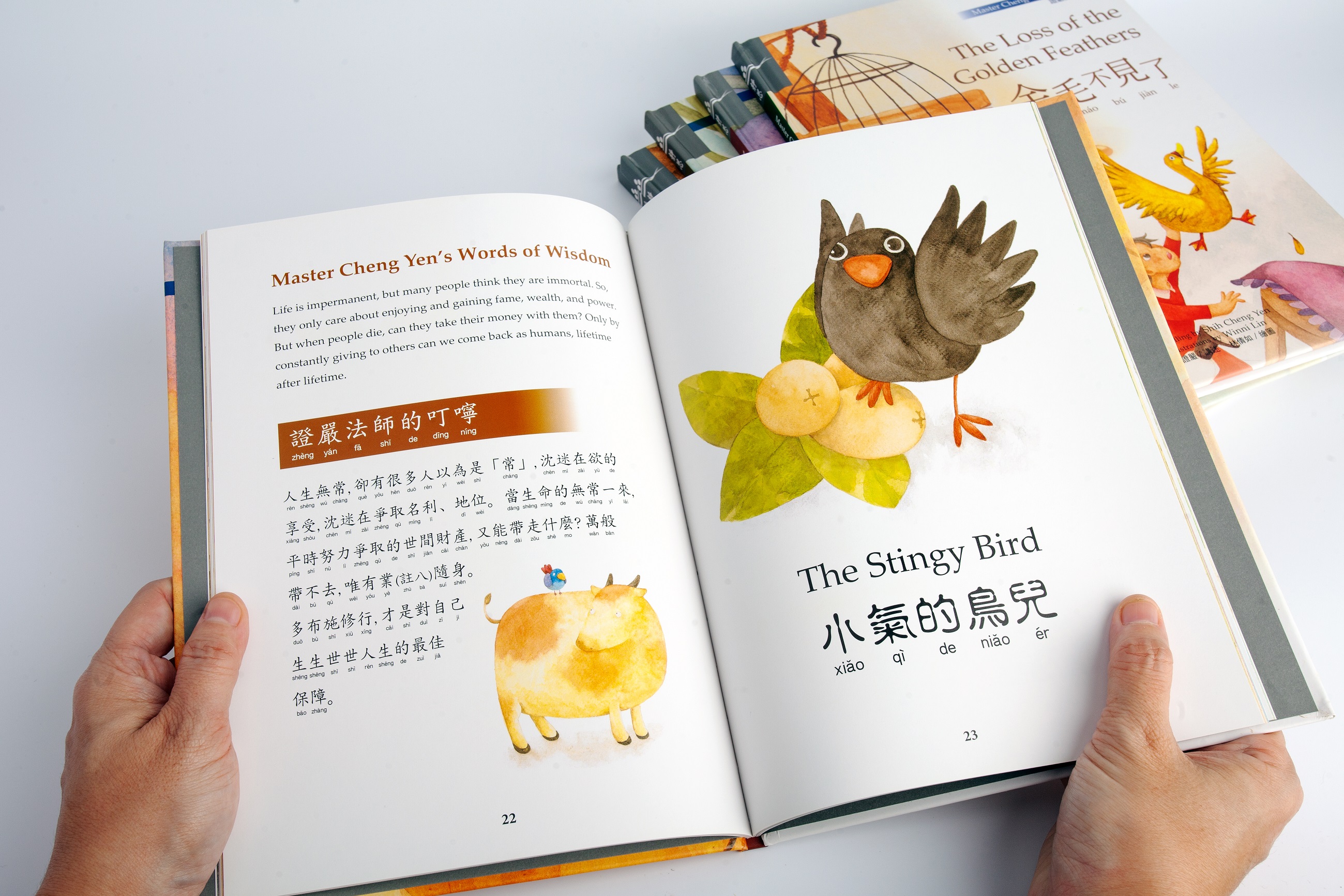 書籍介紹
《金毛不見了》乃證嚴上人說故事童書繪本系列之一,共收藏3個佛典故事:〈女人與狼狗〉、〈貪小失大的夫婦〉和〈貪心失金毛〉。故事寓意深刻,文字淺顯易懂,尤其每篇故事末的〈證嚴上人的叮嚀〉,富含人生智慧,啟發人心向善。證嚴上人提醒讀者要拒絕誘惑,去除貪欲,以慈悲心看待眾生。生動活潑的繪圖,增加故事吸引力,喚起閱讀的興趣。
〈貪心失金毛〉講述母女四人過著非常困苦的生活,一隻全身長滿金黃色羽毛的鵝來到她們面前:「妳們可以拔我身上的羽毛去賣錢。」母女趕快拔了牠幾根羽毛,賣得不少錢。有一天, 婦人說:「這隻金鵝要是哪一天突然不來了,我們怎麼辦?我們把牠全身的羽毛都拔光吧!」金鵝會失去牠所有的羽毛嗎?
The Loss of the Golden Feathers is the third title of the children's book series: Master Cheng Yen Tells Stories. This book contains a collection of three stories: "The Woman and the Wolfhound," "The Greedy Couple," and "The Loss of the Golden Feathers." Each of these stories is brought to life through colorful illustrations and it teaches children wholesome values based on the Master's teachings: Resist temptation that arises from our greediness, and treat living beings with compassion.
"The Loss of the Golden Feathers" is a story about a woman and her three daughters led a very tough life. A goose covered in golden feathers came before them,"You can pluck some of my feathers and sell them." They pulled out a few of his feathers and made lots of money. One day, the woman said, "What if this golden goose stopped coming? How would we get by? Let's pluck out all his feathers."Would the goose lose all his feathers?
書籍資訊
作者:釋證嚴 Shih Cheng Yen
譯者:Tzu Chi USA Editorial Team
繪者:林倩如 Winni Lin
語言:繁體中文 / 英文
出版社:靜思人文志業股份有限公司
出版日期:2014 年 12 月
裝訂方式:精裝

📌Any purchase that cost RM300 and above will gets to enjoy free delivery
📌凡購買RM300或以上的商品將享有免運費

備註:
Regarding to the expire date , if you were to understand / get more information towards it, PLEASE chat with us , and we will get to you soon
對於淨斯食品保存期限有任何疑問,可以通過右下方Chat直接與我們聯繫詢問。我們會儘快的回覆您。