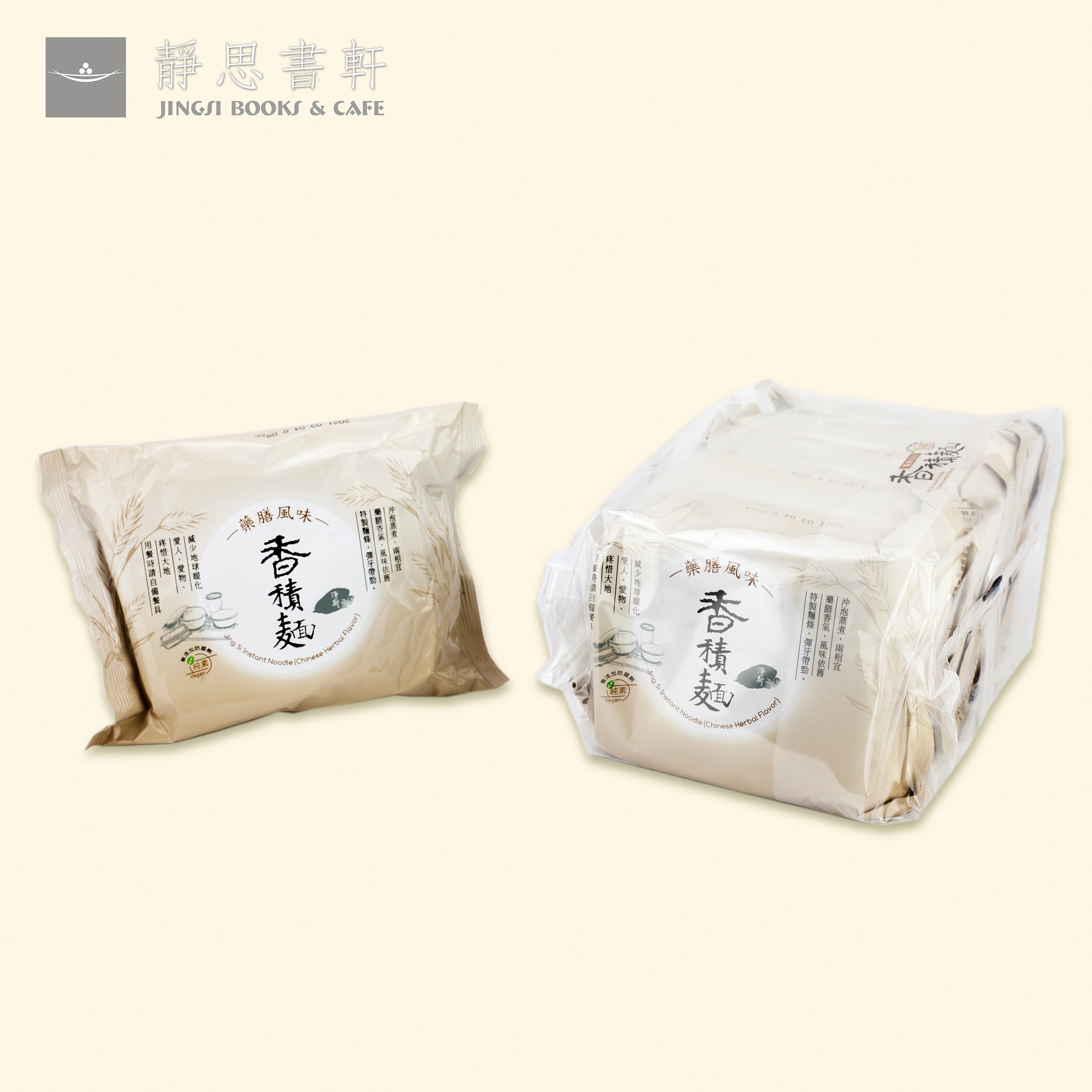 藥膳風味香積麵

由於地球暖化,全球氣候異常,災變頻繁,環保工作刻不容緩,節能減碳的方法之一:「由葷轉素」。期許藉由「香積麵」廣邀大眾茹素護生,長養慈悲心,齊力為保護地球盡一份心。

研發團隊耗時三年以上的時間進行研發與優質原物料的尋覓,並經過不斷來回技術精進、品評與測試,期待打造一款令人人感動與口齒留香的「藥膳風味香積麵」。以當歸、枸杞、川芎、黃耆等原料做為調味粉包的重要風味之一,經與調味油包一同沖泡後,漢方香氣撲鼻,湯底濃郁醇香。

Jing Si Instant Noodle (Chinese Herbal Flavour)

Due to global warming, causing abnormal global climate and frequent disasters, environmental protection work cannot be unduly delayed. One of the ways to conserve energy and reduce carbon emission is to "change from meat-eating to vegetarianism". We hope that through "Jing Si Instant Noodles", to invite the public to observe vegetarianism and protect lives, nurture a heart of compassion, and with combined efforts to protect mother earth.

The R&D team has spent more than three years on research and development searching for high-quality ingredients, after continuous technical advancement, evaluation and testing, we aim to develop an exciting and lingering fragrance "Jing Si Instant Noodles (Chinese Herbal Flavour)". Using angelica sinensis, wolfberry, chuanxiong rhizome, Astragalus root and other raw materials as one of the important distinctive flavours of the seasoning powder package, after brewing together with the seasoning oil package, the aromatic fragrance of the Chinese herbal medicine flavour and the soup stock is rich and authentic.
---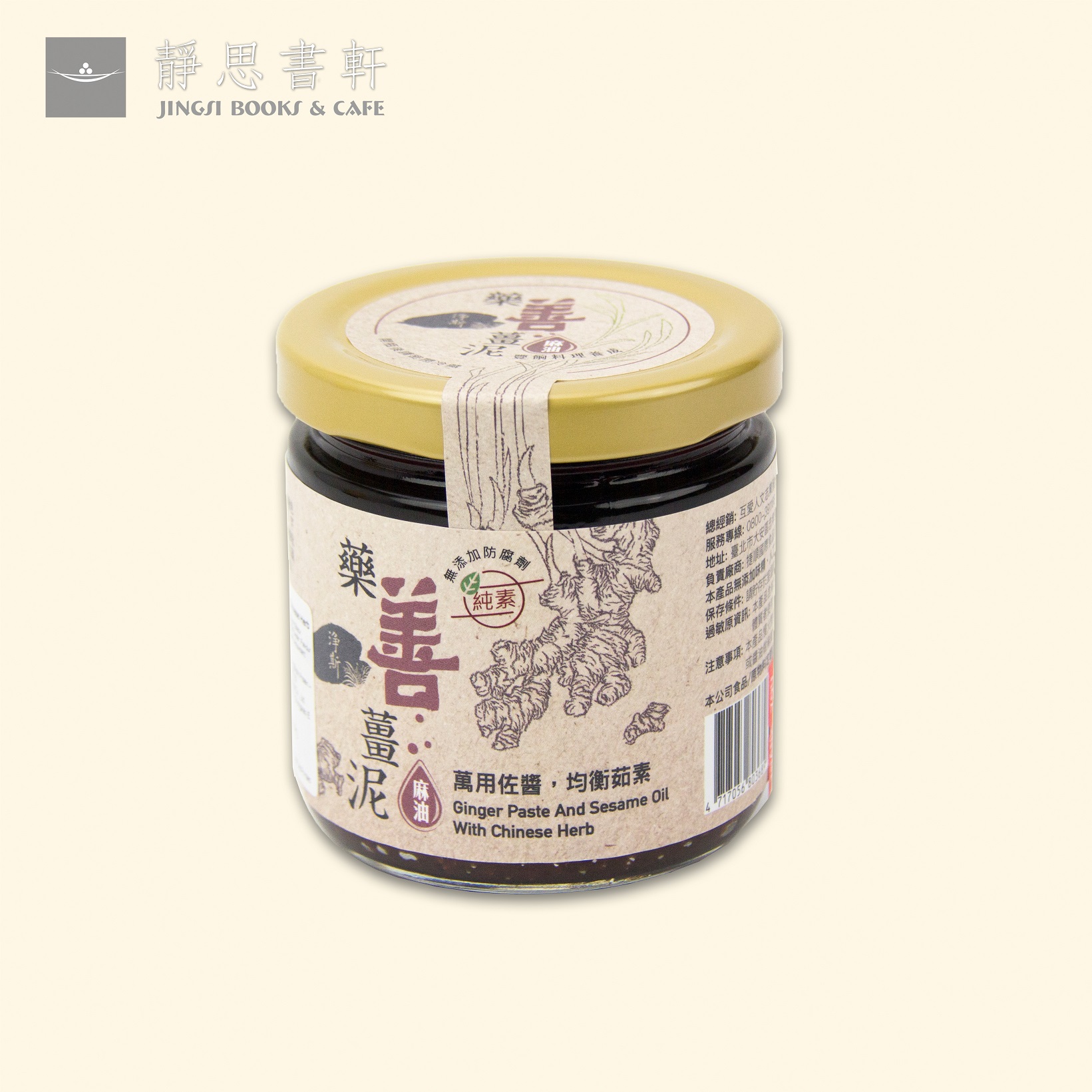 淨斯藥膳薑泥

淨斯藥善薑泥採用台東有機老薑,搭配特調麻油,調製而出的全素拌醬。濃醇麻油與藥膳秘製熬煮出深厚有層次的醬汁,無論是拌麵、拌飯、炒菜、做沾醬或煮湯等,都能增添風味,無論是菇素、蛋奶素或是五辛素者,都很適合食用。

淨斯藥善薑泥以濃醇麻油與藥膳秘製熬煮,一開罐後陣陣的麻油香氣撲鼻而來,絲絲纖維的薑絲清晰可見。第一次打開淨斯藥善薑泥的時候,就被香氣迷住,忍不任就嚐上一口,那麻油的香氣實在太撩人鼻息!一入口後那薑泥的微辛辣感,不會嗆口,卻鹹香有勁,入喉後一股薑的暖香直達胃部,不一會身子就暖和了起來。

Jing Si Ginger Paste and Sesame Oil with Chinese Herb

Jing Si Ginger Paste and Sesame Oil with Chinese Herb is using Taitung organic old ginger, combined with special sesame oil and Chinese Medicine Herbs made with a secret recipe into a rich and concentrated vegan thick paste. Whether to mix with noodles, mix with rice, stir-fry vegetables, making dipping sauce or boiling soup, etc., it would enhance the aromatic flavour, whether it is mushroom vegetarian, ovo-lacto vegetarian or the five pungent roots vegetarian are suitable for consumption.

Jing Si Ginger Paste and Sesame Oil with Chinese Herb is boiled with concentrated sesame oil and Chinese Medicine Herb using a secret recipe. After uncap the can, the distinctive aroma of sesame oil emits and the strips of ginger shreds are clearly visible. The first time when you uncap the Jing Si Ginger Paste and Sesame Oil with Chinese Herb, you would be enchanted by the aromatic fragrance, and tempted to have a taste of it. The fragrance of the sesame oil is really tantalizing to the nose! As the slightly pungent sensation of the ginger paste enters the mouth, it is not choking, but the savoury flavour is strong. After entering the throat, the warm fragrance of ginger reaches the stomach, the body would be warmed up in a short while.
---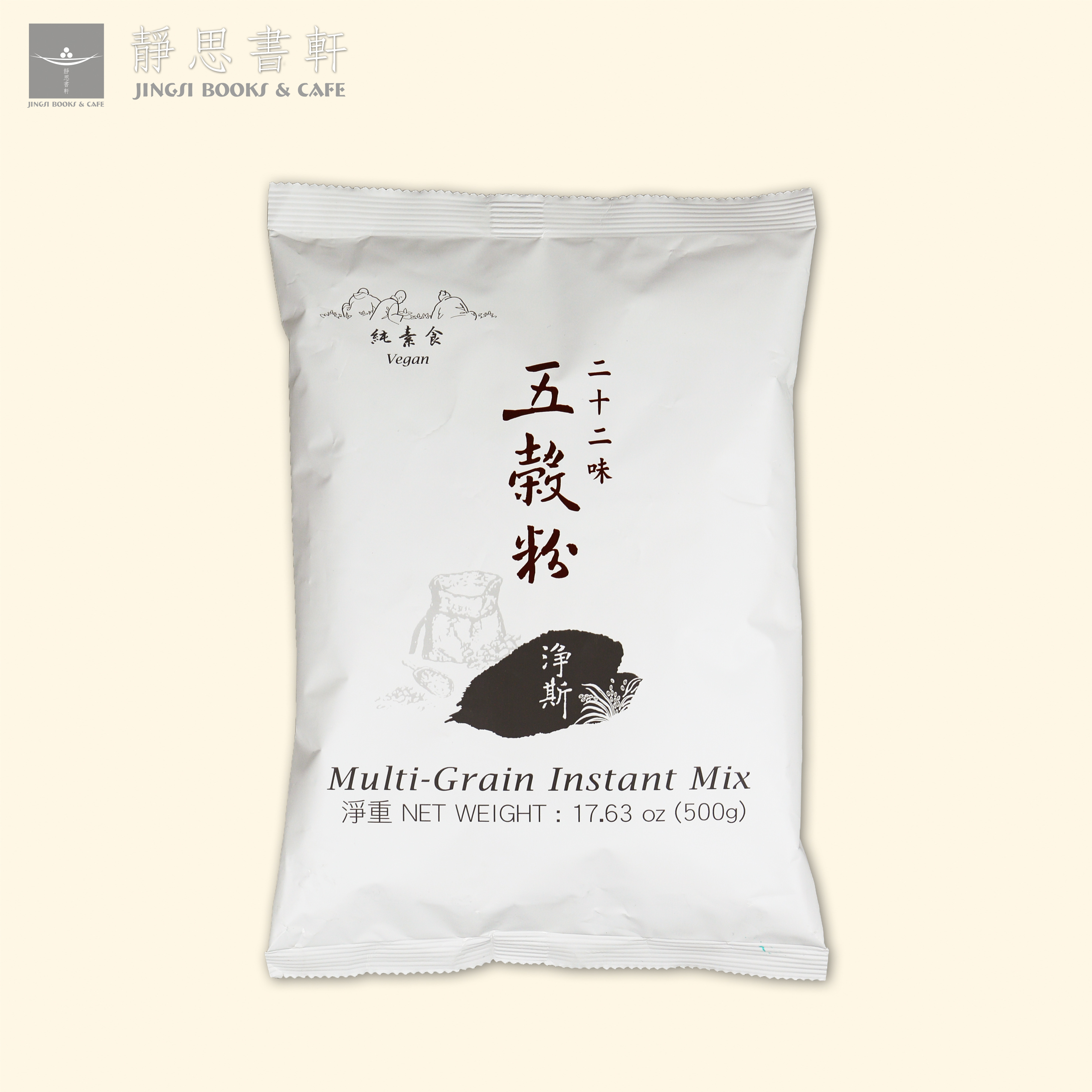 淨斯榖粉

淨斯榖粉,出於臺灣花蓮靜思精舍師父之手,富含多種天然穀物精華與蛋白質,補充綜合營養和平衡身體每日所需。

Jing Si Multi-Grain Powder

Jing Si Multi-Grain Powder, produced personally by the monastics in Jing Si Abode, Hualien, Taiwan, rich in a
variety of natural grain extracts and proteins, to supplement complex nutrition and balance the daily bodily needs.
---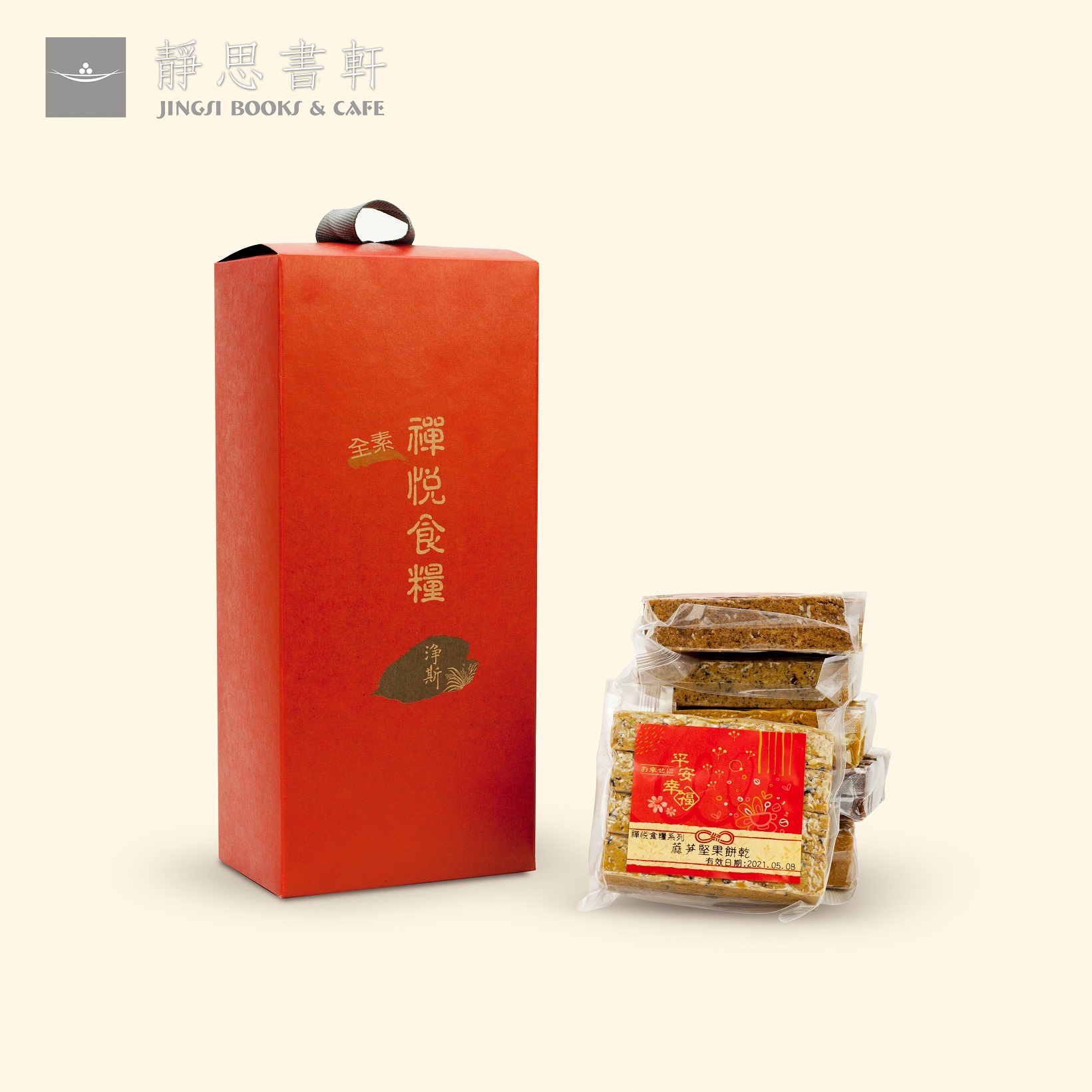 禪悅食糧

來自於鄉土,天順時降雨,地養育萬物,感恩天地供給五穀雜糧,供應人類生活所需。使用新版包裝的禪悅食糧包含六種口味,餅乾融入小葉紅茶、淨斯穀粉為產品製作的基底,每一單包口味含4條裝,口感豐富札實,並使用低GI椰糖進行口味調製。

禪悅食糧每個口味都蘊含了它特有的風味,不管是當點心還是茶食都很棒,一盒有六種口味。喜氣洋洋的紅色禮盒,體面又大方,讓您送禮、自用兩相宜。

Delightful Flavoured Delicacies

Come from our homeland, nourished under fine weather conditions and by the mother earth, Thanks to mother nature for the supply of multi grains to serve the needs of human beings' livelihood. The delightful flavoured delicacies with the new packaging design come with six types of flavours. The delicacies blend with black tea flavour and Jing Si multi grain powder as the basic ingredients of the product. Each single pack contains 4 types of flavours, with rich savoury taste, using low GI palm sugar to enhance its flavour.

Each flavour of the Delightful Flavoured delicacies contains its unique flavour, marvellously delicious whether savoured as light refreshment or as tea snacks. There are six types of flavours in a box. The beaming red gift box is presentable and stylish, suitable as gifts and for own savouring.
---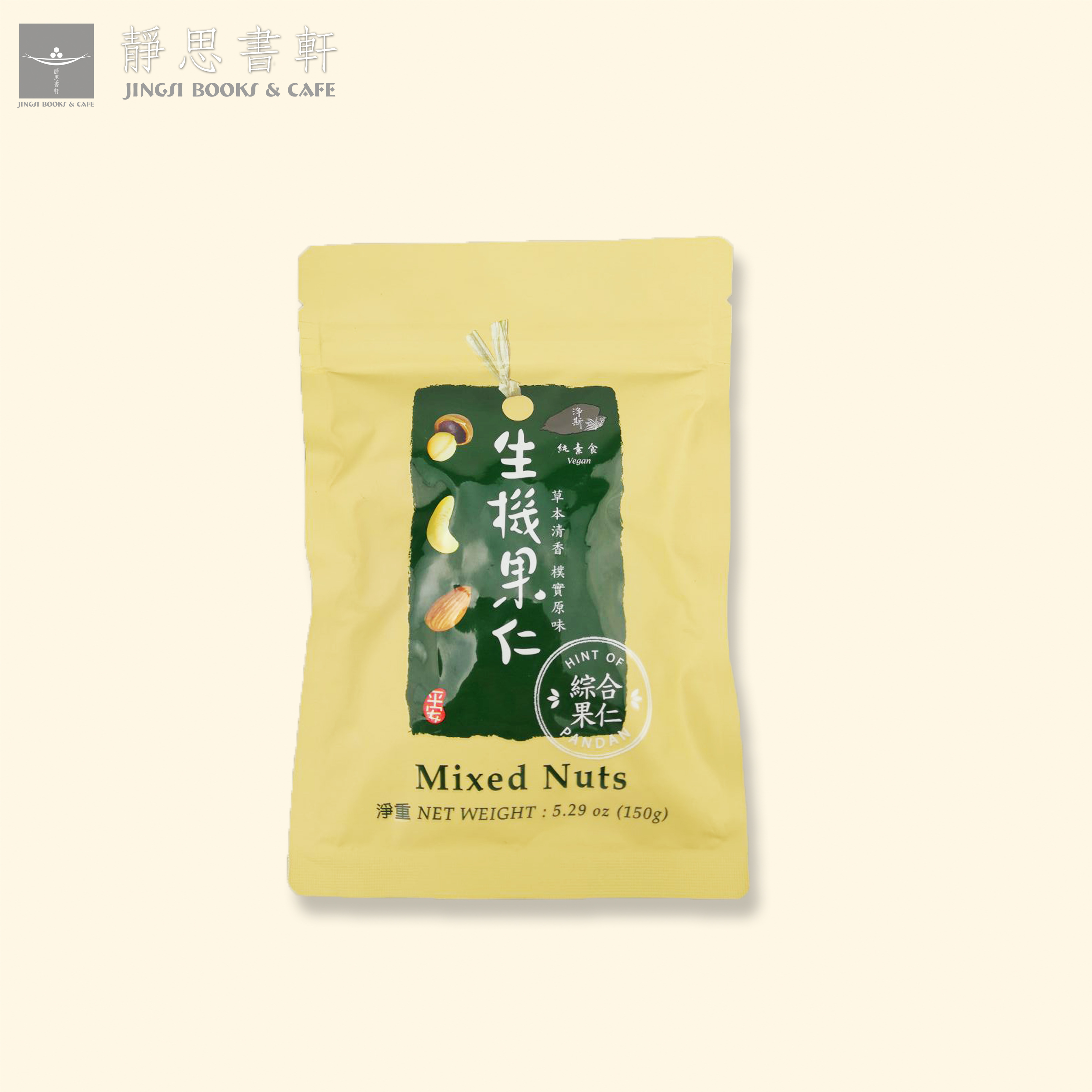 綜合生機果仁

蘊藏的營養價值非常豐富,其中最受人注目的成分包含良好的脂肪、膳食纖維及多種維生素和礦物質,可幫助調整體質、提升安心的保護力。

Jing Si Mixed Nuts

The nutritional value is very rich, and the most noticeable ingredients include good fats, dietary fiber and multi-
vitamins and minerals, which can help to adjust the physique and enhance the protective power with peace of mind.
---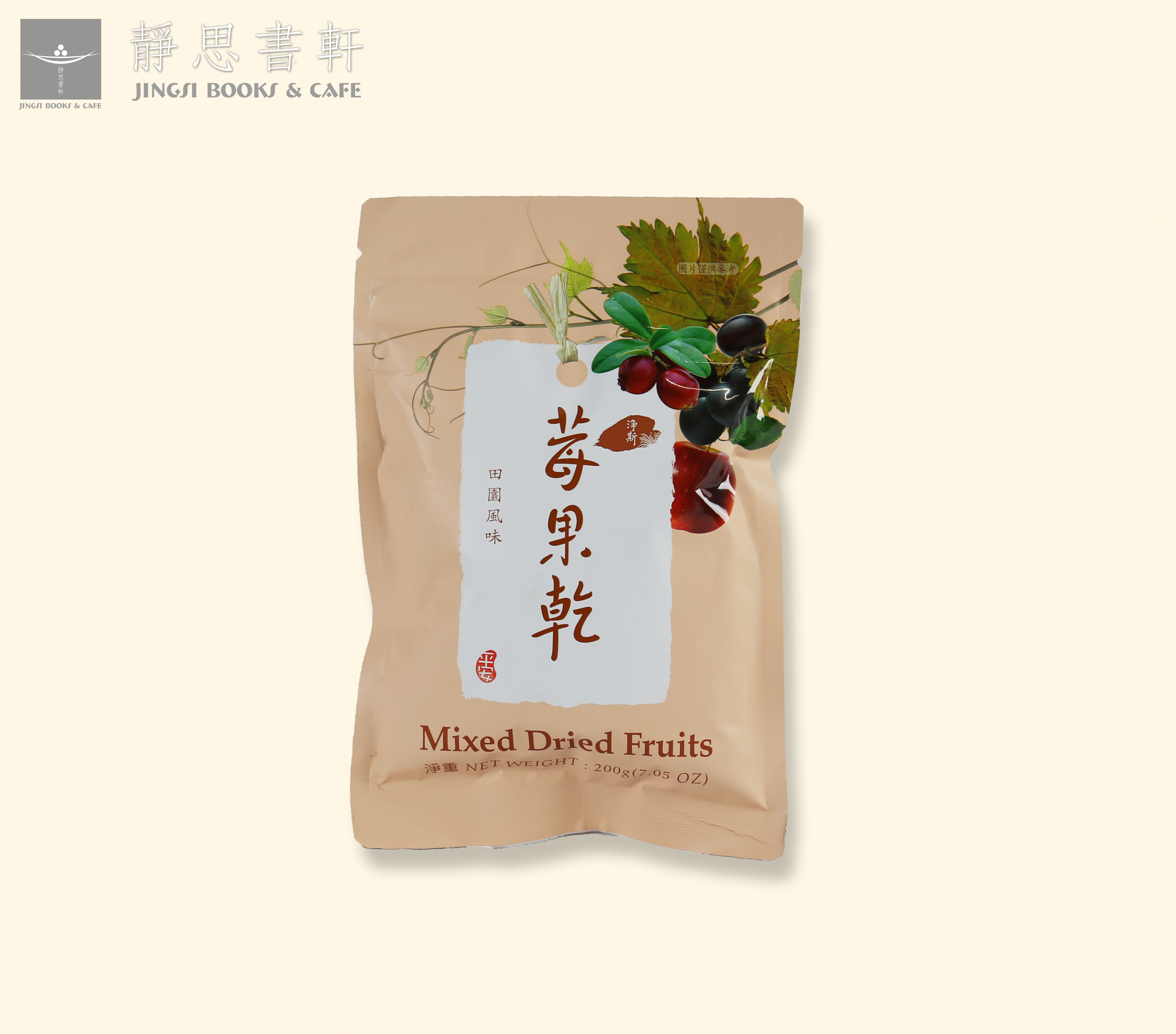 綜合莓果乾

蘊藏的營養價值非常豐富,其中最受人注目的成分包含良好的脂肪,膳食纖維及多種維生素和礦物質,可幫助調整體質,提升安心的保護力。

JingSi Mixed Dried Fruits